Winding roads toward Yosemite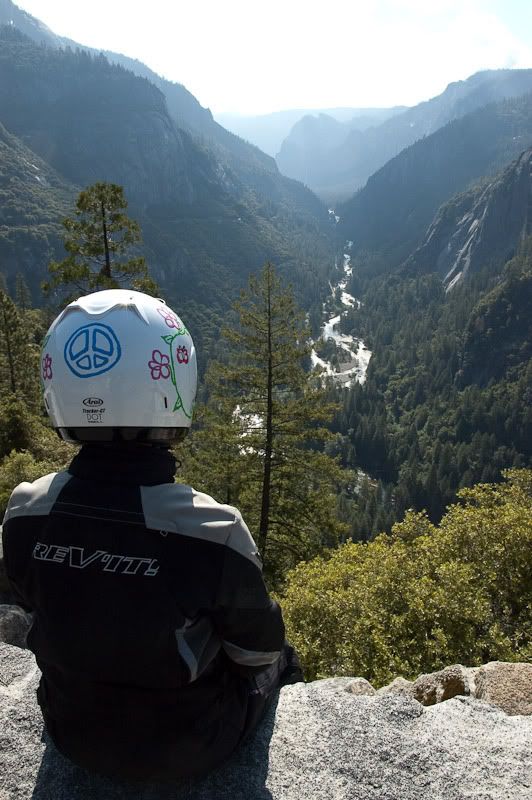 June 6, 2009 -
Carmel
Valley
-
Troy
:
We're warm and dry now at Burl's folks' beautiful home in CV. I'm sitting in the sunshine in my flip flops, just uploaded a batch of photos. Since the last entry we went through Yosemite, camped another night and rode to
Carmel
.
Yosemite, of course, was incredible. There were huge cliffs and beautiful meadows, we saw 3 bears and numerous waterfalls. We hiked to
Vernal
Falls
, an amazingly beautiful short (but steep) hike. The trail is called the Mist Trail and you can probably guess why. The mist felt quite good though and we dried out quickly. I'm not really sure how to describe the scenery, terrain and features of
Yosemite
Park
. I don't think I have the vocabulary for it, so I'll leave that to the pictures. Suffice it to say that it's amazing and everyone should go there at least once.
In the Valley
Apparently, a lot of people do! It was early season but there was still thousands and thousands of people (I'd Guess) in the park. Mostly in the valley. The camps are enormous and there are many of them. It's a bit strange for me because usually, when I encounter natural wonders like these in
Yosemite
, I am in a relatively remote place and there generally are not many people around. Yosemite Valley, in contrast, felt a little bit like
Disneyland
or something. There were thousands of people, lodges, stores, trollies, busses, giant parking lots, etc. On the way to the picturesque
Vernal
Falls
we passed a snack vending shack, and the "hiking trail" to the falls was mostly paved and/or had hand rails. You don't exactly get that "explorer" attitude or experience.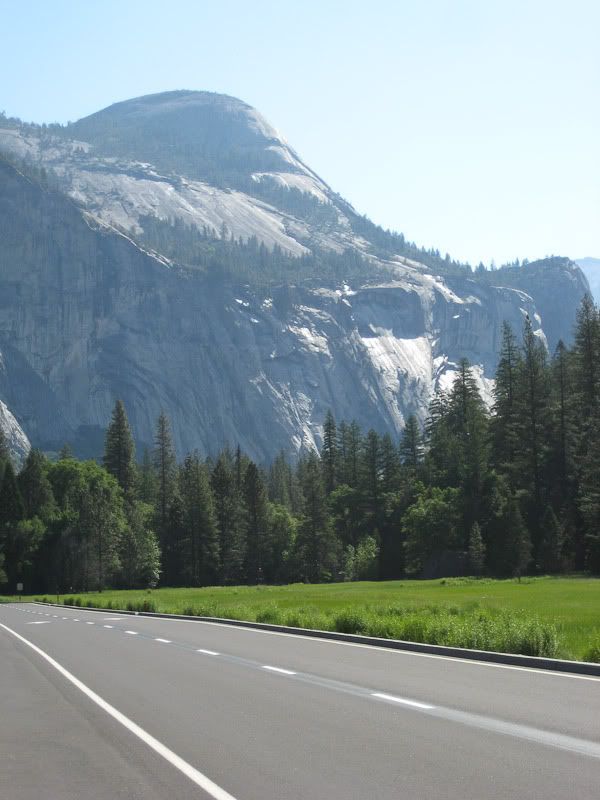 That said, the park was still a wonderful experience and one that I'm grateful to have. I'd love to get back again and spend several days there.
In my last entry I left off with the pattering of rain and thunder strikes. Well, there was some more thunder, but all fairly distant and the rain never really materialized into much.
However, the next night was a different story! We left
Yosemite
late and rode into Mariposa in the dark with the bikes headlight pointing into the sky due to the heavy load of gear on the rear suspension. We were tired and out of food so we hit a Burger King for a quick dinner, then headed out to camp on some property owned by a friend of Burl's dad.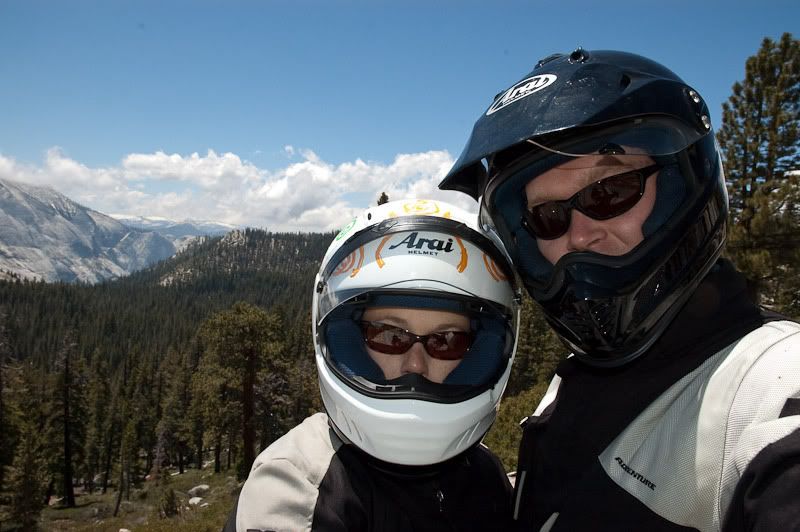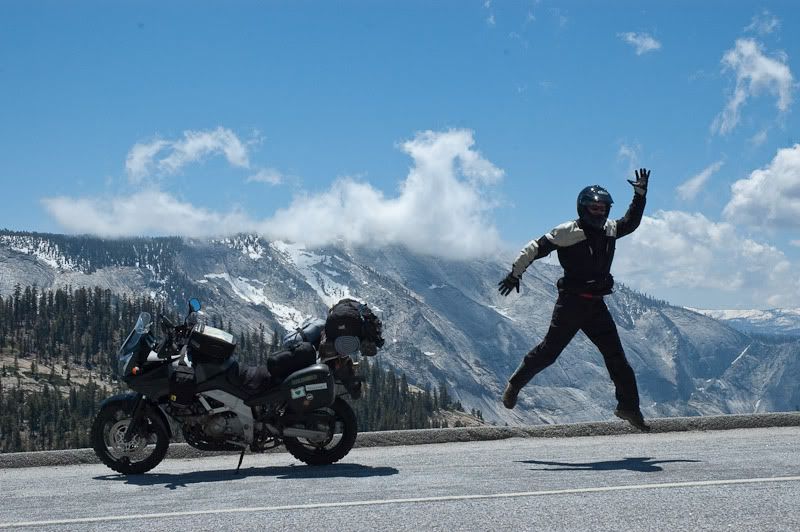 There was a partially built house on the property, but it was al locked up. So we slept on the front deck. The skies were clear, it was warm enough and the bugs weren't bad, so we decided to sleep under the stars—no tent. That was great until about 2:30AM when I woke up to cloudy skies and light rain.
(EDIT: Wow, these journals are great! It really brings me back there and I can relive this moment. I remember how warm it was, and that at this point the rain was very light, almost pleasant. Also, the moon was so bright that you could see clearly and there were hard shadows, almost like daylight.)
I woke Burl up and she suggested maybe just pulling the tent's rain-fly over us like a blanket. That way we wouldn't have to pitch the tent. While we sat there trying to decide what to do, the lightning lit and the thunder thundered and we decided that was a clear sign that we had better just get up and make the tent. It was a good thing we did, because soon the lightning intensified and the rain poured down and it didn't quit.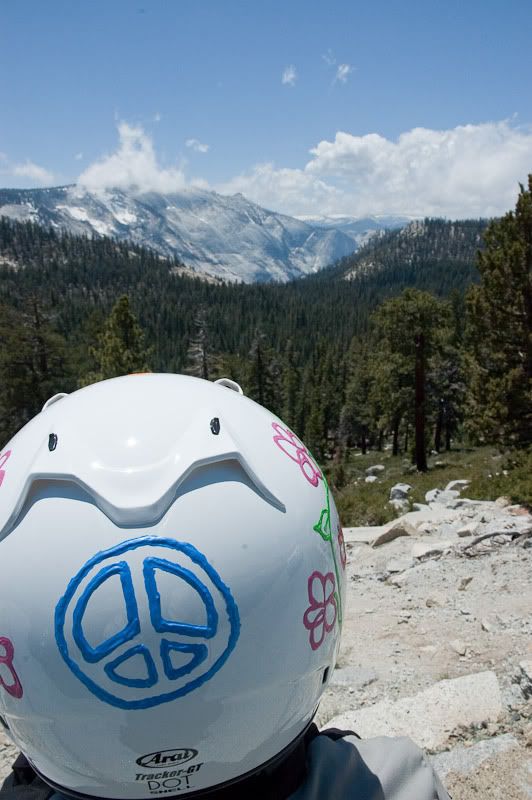 In the morning we slept in, waiting for the rain to stop so that we could get out of the tent and pack up. Finally, at 8:50 I decided we were just going to have to deal with it and we packed up all our wet gear in the rain. As we were pulling out and heading up the long driveway, the rain stopped.
From there it was a quick 3 hour blast to
Carmel
Valley
. I rode fast (well, sort of fast, 70-75) which kind of sucks with my dual-sport helmet because the wind catches it and jerks my head around. Also, there was quite a bit of traffic so it was kind of stressful. Finally we pulled into
Carmel
Valley
and are very happy to be here and to have a sunny and warm (if not hot, at least warm!) forecast.
There are, naturally, about 1,000 pictures from the one-full-day in Yosemite. Here are a handful of the best or most fun/interesting. There's a bunch, but seriously! It's friggin Yosemite!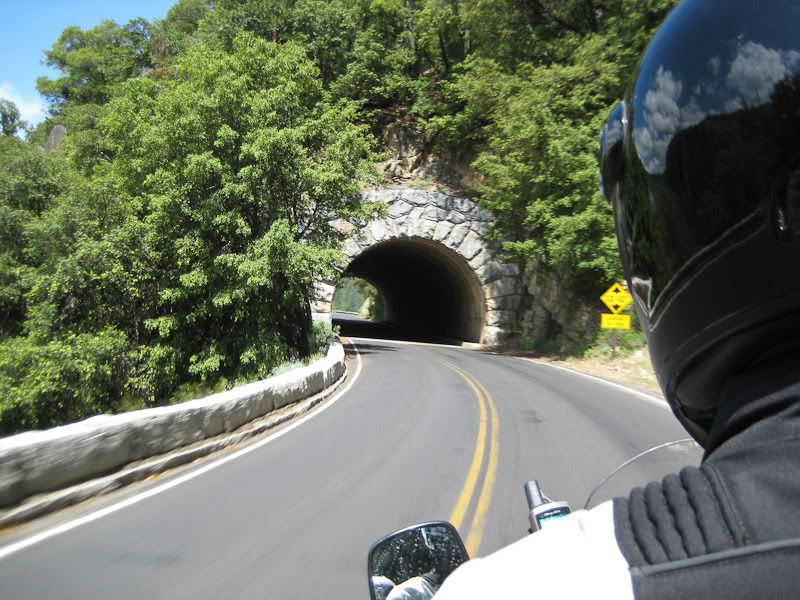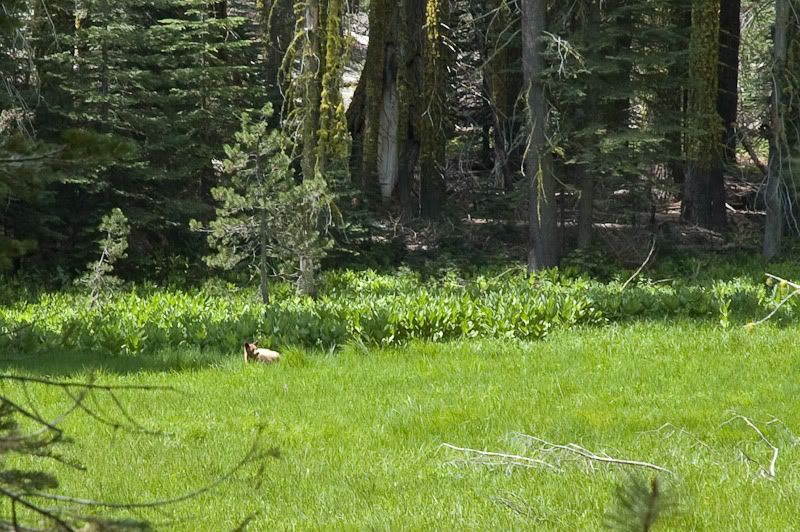 Bear!