Lake Tahoe
Burl June 4:
This morning we struck out into the rain! After riding over the quick pass to Lake Tahoe we stopped and snapped a few pics. Driving around the lake and through all the towns was taking forever but I told Troy to stick with it.
We finally made it to the pretty granite section at Emerald Bay (we are on the west side of the lake, by the way). Finally, it felt like the Sierras!! Oh, and we're going to name our daughter Sierra (our someday maybe future daughter that is... I am NOT pregnant).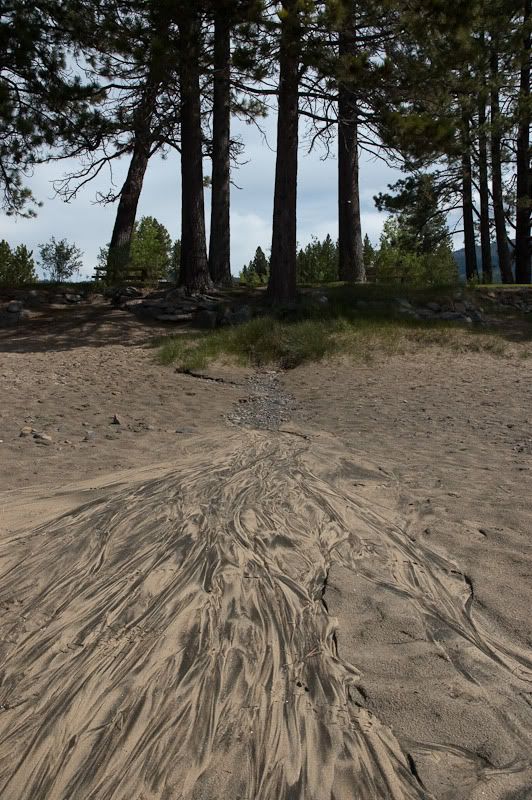 Crazy sand at Tahoe
Anyhow, continuing south we checked out Markleville and ate lunch near Grover Hot Springs... a meadow surrounded by forested hills and a sweet snowy peak up-valley. Cute town too.
We headed up toward Kirkland, we got stopped and watched CalTrans break rocks off the cliff above the road! I chatted with the stop-sign lady and got some tips for our drive north when we're heading back home. I've been very pleased and encouraged by our encounters with strangers on this trip. Turns out, most people are very friendly and helpful if you talk to them
.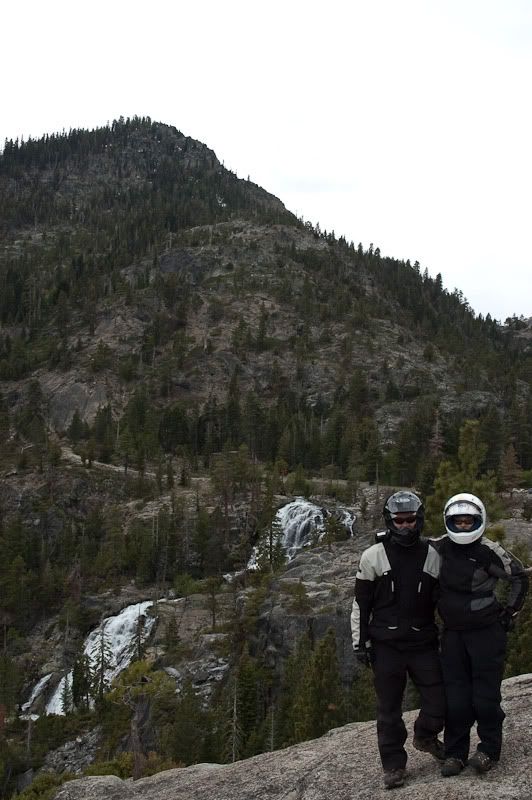 Waterfall feeding Emerald Bay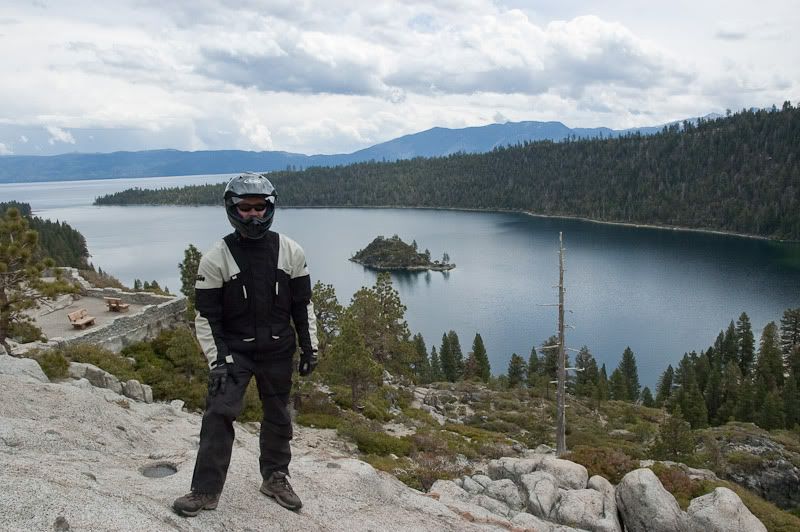 Troy at Emerald Bay
Troy:
Yeah, people have been very nice. I think they like the fact that we're on vacation and traveling. Where we got stopped for the work crew was a very pretty place. We had just climbed to over 8,000 feet elevation for the first time in the trip, which i was very excited about. Also, we were seeing more and more big, granite rock slopes. When we got the OK to proceed from the traffic flagger, some guy in a huge, million dollar RV dashed around us while we were getting on the bike. As if he couldn't wait ten more seconds after being there for half an hour. So we got to follow his slow, stinky motorhome for several miles of prime, twisty, mountain-pass highway before we hit a straight section long enough to get around him. Did he think we were going to hold him up or something?!
I think this was highway 88, it was whichever one Kirkwood is on, and there were some spectacular views. Lots of solid granite slopes now. Actually, i have no idea if it's all granite, I just say that because that's what Burl was saying. Anyway, it's all rock! Somehow the trees and plants find enough soil to cling to, but mostly it looks like big rock slabs. Very pretty and very much what i associate with the Sierra range. So much different from the Cascades in Oregon. I'm excited to see even more tomorrow in Yosemite.
After coming down from over 8,000 feet, when we got down to 3,500 or so (our lowest since leaving Bend) it started feeling very warm and pleasant. We came down to Pioneer, West Point, Mountain Ranch, Sheep Ranch, Murphy's, Columbia, Sonora and then down to Hwy 120.
I'm really glad we came west to the lower elevations. From West Point through Sheep Ranch was a really beautiful area with nice rural homes. I could really enjoy living there except i suspect that it gets way too hot, dry and brown for me in the summer. Looks great right now though.
Hwy 88 scene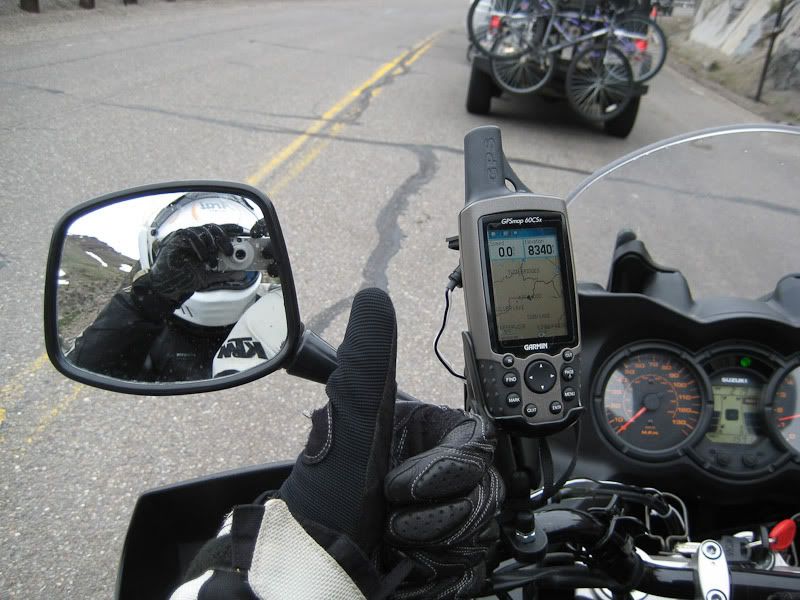 8,340 ft. elevation!
Sheep Ranch was neat too. A very nice man pulled up next to us as we were stopped looking at our map, and told us a little bit about the town and seemed glad that we were there. He suggested that we head toward Murphy's, which turned out to be on the route that we had already planned anyway. And lest i forget to mention it, sure enough, as we sat there after the man drove away, we did indeed see some sheep ranchers. There were 3 little girls in a field with the sheep, herding them up towards the barn. One girl climbed up on top of a stubborn sheep as if it were a horse and a second girl pushed the sheep up the hill by its rump. It was quite a sight. I'm not sure why we didn't take a picture, maybe we were getting a little camera-weary already.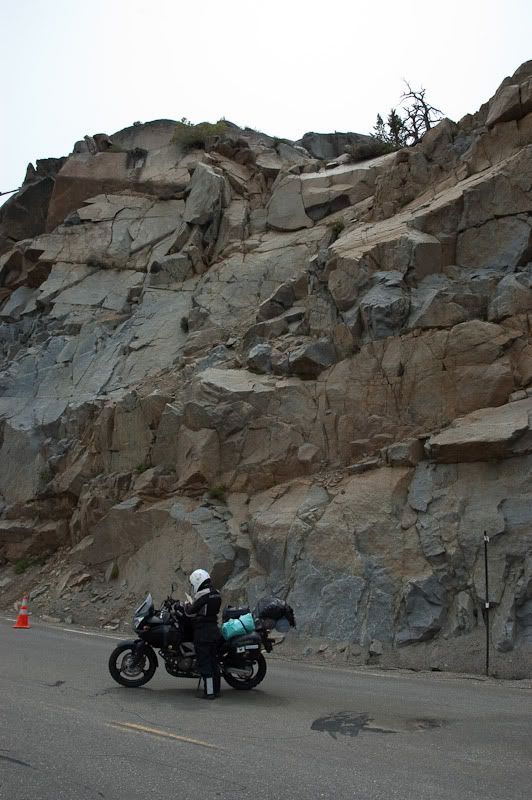 Construction stop
Anyhow, Murphy's was a cute little tourist town but we didn't have a lot of time to check it out. We shed some layers (it had been warm for quite a while by this point) and tried to make time toward the northwest corner of Stanislaw National Forest, where we planned to make camp.
And now here we are, journaling and listening to the rain intermittently pattering on the tent. Just now we got a flash and some thunder nearby and the rain is intensifying. It's supposed to be better weather tomorrow... it might be an interesting night.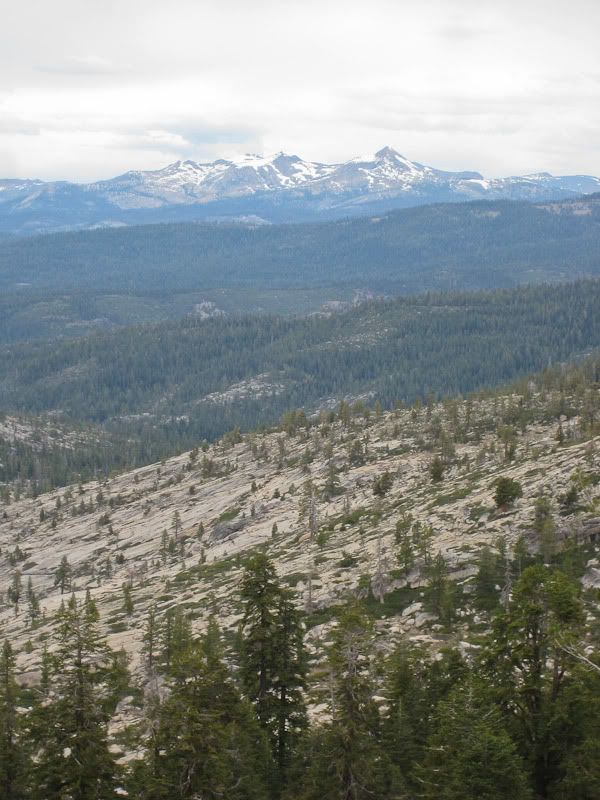 Granite slopes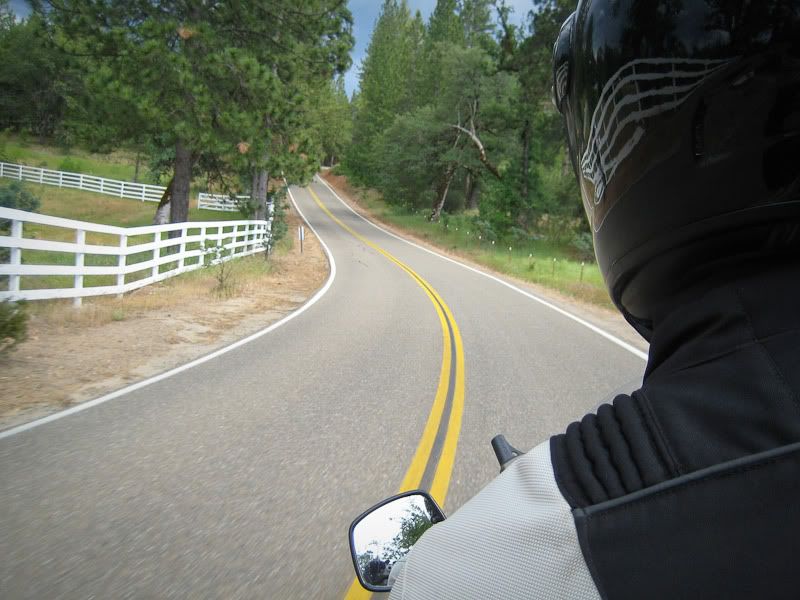 Somewhere South of West Point, i think...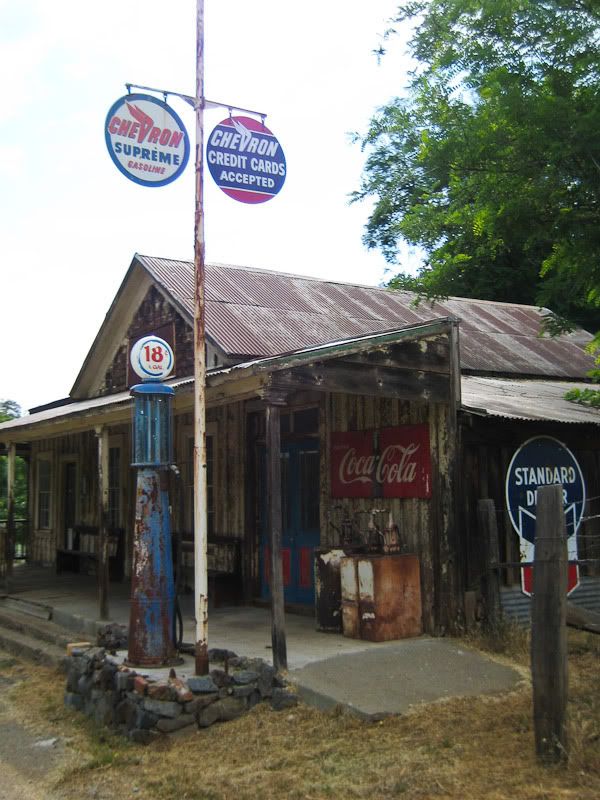 Sheep Ranch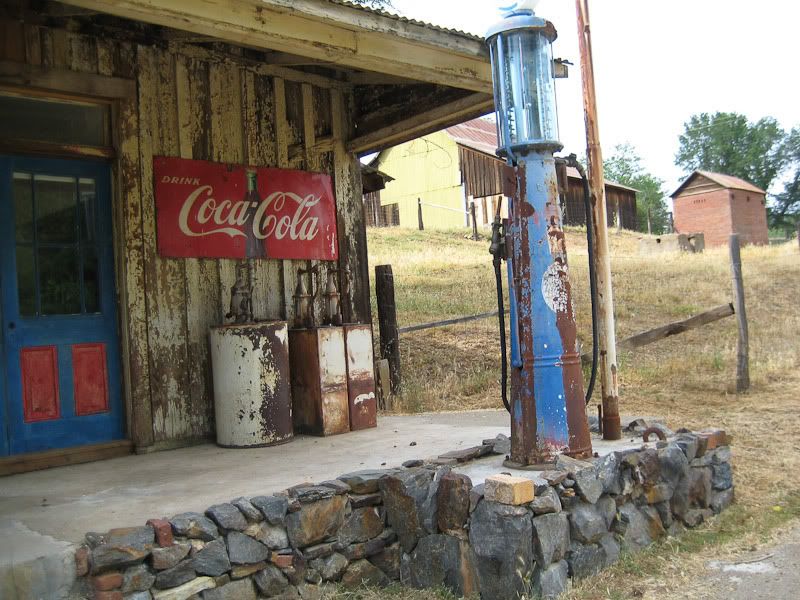 Sheep Ranch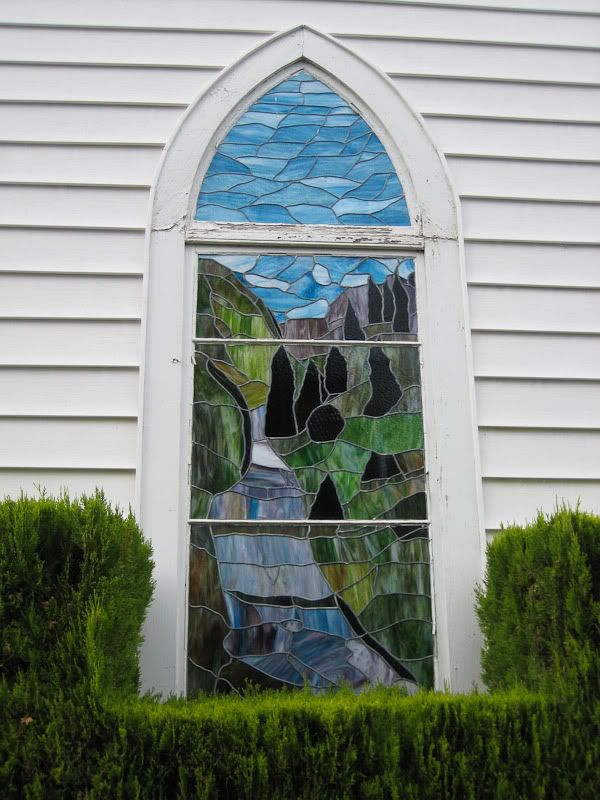 Burl liked this window. Murphy's I think.